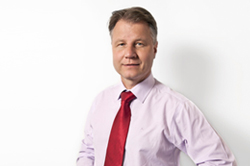 Hartmut Dennewill

– Managing Director
ITS Technologies was founded by Hartmut Dennewill, who draws on more than 20 years of business, safety and security technology, and leadership experience. He joined the South African Post Office in 1984 as a trainee technician, and there he successfully completed his Electronic Engineering Diploma in light current, power distribution, measurement instrumentation, switching and transmission systems. From there he  joined a Cape Town-based consulting engineering company where his responsibilities ranged from the design, surveying, documentation and the implementation of electronic security and safety systems for various corporate clients.
In 1997 Hartmut decided to join a safety and security contractor to head their project division. After only two years in this position, he was appointed Director Western Cape for the company and responsible for the Western Cape branch and management thereof.
In 2004 Hartmut decided it was time to venture on his own and founded ITS Technologies. His vision was to establish an organisation in the integrated safety and security industry that strives for excellence and professionalism.
Today Hartmut is a widely respected authority in the Safety and Security Industry.